This time, two years ago- I felt a sense of joy and pride in myself I'd never real

ly

felt before. I had just succeeded in doing two things I was passionate about. My parents, who by the way, are the best

supported me in making this happen. My best friends had my back. Some of them still do. I felt fearless- I could achieve anything I set my mind to. I'm more cynical and fearful now so writing this is designed to give myself a nudge.
You see, cancer had dealt a big blow in the years before. My

old

classmate, Ebuka passed away eleven months after we graduated. He was a brilliant artist and pleasant pe

rson

. As time passes, the memories recede. Now and then, I think of him and get sad. He was 17. He should be living his dreams.
A year before Ebuka, my aunty Yosola went. As a kid, I was really close to her.

You know those days when life was just stress free and the greatest worry you had was what Capri S

un

flavour you'd ask your Mum to stock. I don't know if any death has affected me

like

Aunty Yosola'

s

. At least

, w

hen my grandmothers passed away, I could at least console myself that they were old. Aunty Yosola was fifty something. And I was in late

teenage hood

so I was fully aware of its significance

.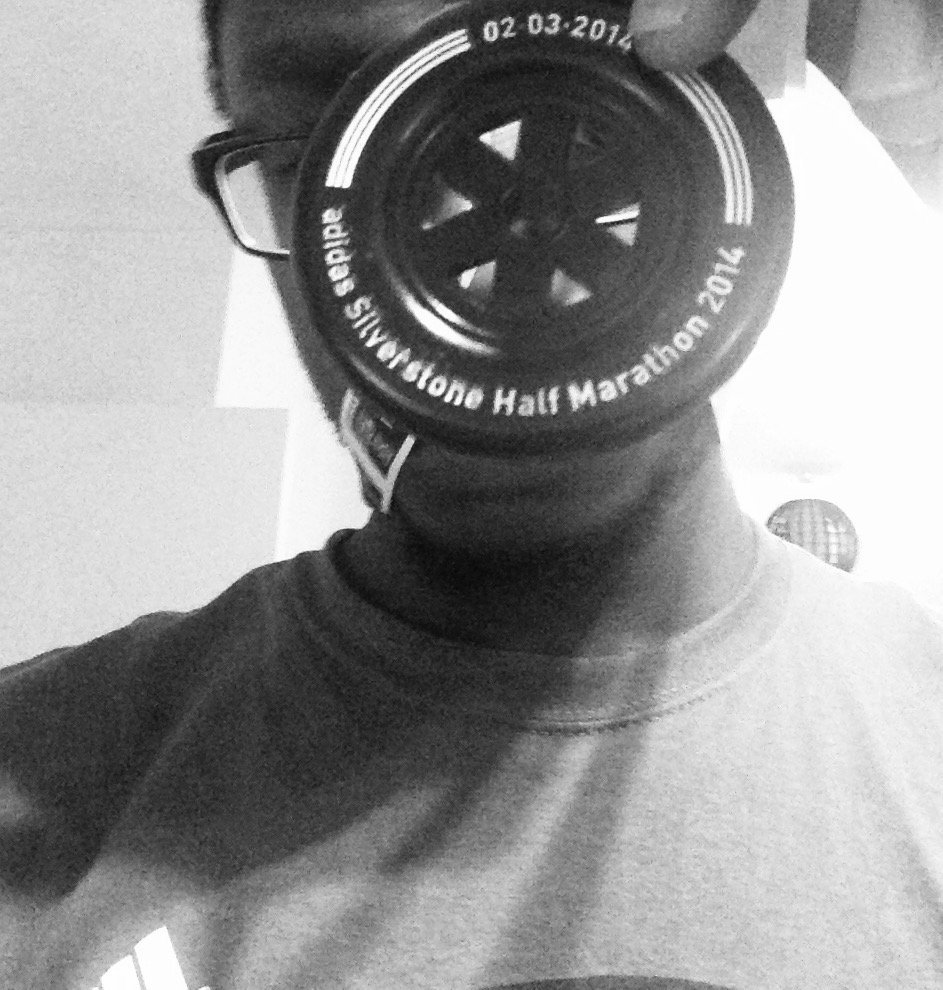 It was in the summer of 2013 I knew what I wanted to do to honor their memories. I

had just gotten

over my first heartbreak and was throwing myself into my next big relationship. Kanye West dropped Yeezus. I did Summer School at LSE and interned at a law firm. I was getting my first real taste of adulthood

... and

enjoying it

. I was also

experimenting with the gym. I thought to myself " Why not run a marathon or one of those things people do for causes they care about?" So I went and looked up a directory of charities- Cancer Research UK appealed to me and I saw that I could run the adidas Half Marathon to raise funds for cancer research. Perfect

!

So I started going jogging. I'm shy and hate publicising stuff or doing that thing people do of tagging everyone on Twitter and messaging them to retweet and stuff s

o I

set up the page and left it. Occasionally, I'd tweet a link but you know how people act like they don't see stuff un

til

you actually engage them

. F

or the longest time, it was dead. Luckily, I know people who are so cool that I hit my target without going on a concerted publicity effort. Marathon morning came and I got a coach from Euston to Silverstone (the F1 circuit) where the marathon was taking place. I honestly didn't think I would finish running said marathon. I'm a sprinter. Running 1

3.1

miles is not m

y type of thing

. And even though I had been doing 6-

7

miles in training, I still had doubts. It was freezing! I said I wouldn't walk till I did at least 5 miles which I

managed to do in

an hour and a bit. After that, I declined rapidly. It started raining and every bone and muscle in my body hurt. But I had to finish. Just so I could feel better about myself

and

Aunty Yosola and Ebuka could give me a thumbs up from Heav

en

. And so I ran

. And

walked

. At

the second to last mile, I might as well have been crawling

when

this older man ran up to me and told me I had to get to the finish line before him

. I

felt compelled to run. I ran the whole thing in just below 4 hours

.

I think the guy who won did it in less than an hour. AMAZING. 'Cos I turned my phone off, the coach I was supposed to go on left. So I had to wait in the cold for an extra 45 minutes whilst they got an alternative car to come and take me to the nearest Train station

,

Milton Keynes from wh

ere

I got a train to London. As soon as I got home, I took a shower, ate and

lay

on

the couch for the next 24 hours.
The next day, March 3rd- another of my dreams

came

true.
Since I started writing on the internet (2008 by the way), my dream was to develop a platform that was less about me and more in the public interest. That day, Culture Custodian was going to make its debut. By the way, i

t's the reason this

blog functions more as a portfolio now. I

'll try

to
come occasionally to talk about personal stuff.
I had to head back to Uni that evening as I'd already missed a day of school. I hoped that I'd get home in good time before the 8pm launch we

'

d announced. But there was a train delay so I ended up arriving in Canterbury as it launched. I remember walking home and jumping giddily, not caring if anyone saw me. That was the easy part though

.
How did it come about?

Tito, who's been my brother since Year 7 (we're 13 years deep yo!) was thinking along the same line of creating a media p

latform

so it made sense that we came together with

Aedan who was thinking the same thing

. (Tito and Aedan are really good friends). We experimented with names and worked on it for years. I think it took us near 3 years after having the first conversation to actually bring it to life. Nothing could prepare us for what we were about to get into

. W

e just had to throw

ourselves in. We obviously had ideas on how we'd go about it but you know that saying "Campaign in poetry, govern in prose". So we learnt on the job and are still learning on the job. Some days are great, some days are crap but like all slow burners- the crap days are motivation to make every day great. Over Christmas, we pulled off our first major events- 3 Culture Custodian Nights with headliners like Ayo Jay, D.O, Falz and YCee to a modest crowd. That was exciting and

fueled

us. This year, we have bigger plans. Culture Custodian turns 2 today and I couldn't be prouder of it. It's a reflection of the team and I in not being lazy and taking the path oft taken. Through it, I'm learning what I love and hate

.

I love Criticism but I hate Free Advice. Sounds confusing, I know

.

I want your criticism- there's more to be gleaned from

it

than praise. It's why while I'm happy to hear people say they like it because it soothes my ego and v

alidates our efforts

, I

care mor

e about hearing what people dislike because it gives me something to

actually work on and use to prove a point

. On the other hand, I hate free advice- when people who have no idea how things work come with harebrained ideas on how to go about business. And then when you ask them to back their convictions in some way, they start flip flopping. People love to hear the sound of their voices and have fooled themselves into thinking they are

authorities (If there's no such thing already as an 'authority complex', don't use it without crediting me.

Bless up.)

Y

ou have to cut through the BS.
If you have any dreams, just make them happen. Sto

p overthinking thing

s and worrying about

market saturation and all that jazz. Just give yourself the best shot of making it work and see it through. The rest will follow. (Does this count as free advice? You're welcome

.

)
That said

, I want us to do more.

I want us to be the go to for millennials for

every strand of

popular culture. Then to break stories and news. Then to commission the best longform writing

around

.

Then

generate the most exciting content this side of the world. We should be at the nucleus of the zeitge

ist.

I want to put

people on like my Uncles, Reuben Abati and Kunle Ajibade did me. Most of all, I want people to support us not because they're our friends or thin

k

we're nice and decent people. The product should be so dope that they don't have any other choice. To do all this, I need to rediscover the can do spirit of March 2nd and 3rd 20

14.
May all your dreams come true,
P.S I never closed the Just Giving pag

e

because I wanted people to use it anytime they could

,

to support

Cancer Research UK w

ho do an amazing job

. If you feel like, head over there and

make

a donation. Positive vibes.