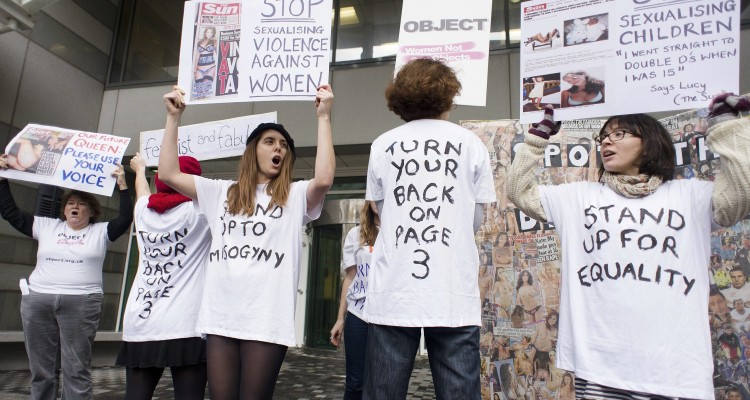 Theme of the Year: Feminism

6th of August. 5.47pm
There's no light and I've had a longer than usual day at school. I turn on my iPad on and go to the Podcasts section and run through some TED talks. My friend and roommate, someone I've known for more than the last decade gets frustrated when the third podcast plays. "Why are you so obsessed with all this feminist shit? Fucking turn it off. I won't be surprised if you had feminine traits". I say nothing because I know nothing good can come from this exercise. I don't even bother pointing out that I didn't even select the sequence of podcasts. I chose the first one by Facebook exec and Lean In preacher, Sheryl Sandberg and it just happened to be a mere coincidence that the next two unplayed podcasts were on the Feminism theme. My friend's ignorance proved a point, though: Feminism is important and must keep being the subject of discussion.



I am currently in Law School in Nigeria and have become more exposed to the sexism rampant in Nigerian society. There was the girl who told a friend who had discovered the guy she was seeing had a girlfriend that "That's the type of thing you close your eyes to".Earlier this year, a standing Governor verbally assaulted a female Senator till she cried. Then there was the story by Pius Adesanmi of a lady whose car was bashed by a man who then resorted to teasing her for not being married. There was the law school professor who suggested that the only reason women were allowed into schools was to keep the men company. What the hell is wrong with the Nigerian man?
That's not to say it is limited to the Nigerian man. Richard Scudamore, the Premier League chief was shamed earlier this year for sending sexist emails. Football manager Malky Mackay and his friend, Iain Moody also found sexist text messages they had sent hit the papers. One of the final editions of my university paper had on its frontpage a rape case that had supposedly taken place on campus for which the police had to be called in. British university campuses are haven for the sexist. Lad culture is celebrated so women are continuously violated. When guys aren't taking advantage of drunk girls, the sports teams and societies are demanding they do something stupid and excuse it as "banter".
Oh! "Banter". That word again. The excuse of the Neanderthal when he's said or done something dim. As an aside, can we outlaw the use of this word in 2015?

We have a problem. There's a refusal to acknowledge that women are our equals. Certain things are so commonsensical that any attempts to devolve from them reeks of madness. Feminism is important because it ought to be a natural response but certain people keep choosing to act like there's something wrong with it: In their eyes, it's like that child with chicken pox no one wanted to hang around with. As such, we have a lot of token feminists: People who choose to align with the cause because it guarantees good PR. Taylor Swift can scream she doesn't want to be a Feminist in one interview and then claim that she's one in the next. It's why Karl Lagerfeld can design his Paris Fashion Week display around the theme and then verbally bully the likes of Adele and Pippa Middleton.

All this means is that as Kanye West implied to Sway Calloway, we have to do the education. We have to remind women that the world can become a better place free of double standards. We have to make men understand that the essence of humanity is to constantly find perfection: An equal world is a perfect world.Feminism is important because it seeks to derogate from the one size fits all model that Nigerian men who should know better seek to impose. Feminism is to provide women with the choice; the choice to do what they want and be who they want. Feminism is important because it seeks to hack down the padlocks that have been used to bind certain doors. In Nigeria, two of the more important jobs are helmed by women yet it still seems so far away for us to have a woman as President or Vice President. There's only one woman who's been elected as a Governor in the history of Nigerian democracy. Feminism is important because it's the platform through which we educate the Nigerian man and resocialize the Nigerian child. And the next time, someone tries to convince you contrary tell them "You are the reason why Feminism must keep being a subject of discussion".

My Favorite Feminist Thing of 2014: The case of Ukeje v Ukeje which reached the Nigerian Supreme Court this year set an important precedent. It was held that the cultural practice in the south eastern region that prohibited women from inheriting land was repugnant to equitable and good justice. Long may the Nigerian system continue to repel against the forces of Patriarchy.

Originally published by Culture Custodian