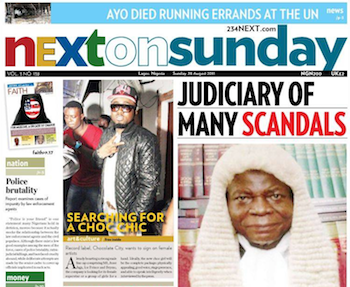 When Next newspapers hit the scene in 2009, it was an instant hit amongst the Nigerian elite. Its broadsheet style reminded one of some of the top newspapers in the world from the New York and The Times of London to the Daily Telegraph. Led by Pullitzer Prize Winner, Dele Olojede and his wife, Amma Ogan they set out to transform the Nigerian media. Before Next, Olojede was a successful journalist in the early 80s working at MKO Abiola's Concord and then forming part of the foundation team at Dele Giwa and Ray Ekpu's Newswatch. Giwa was the dashing and fearless journalist who lost his life in a mail bomb blast believed to have been orchestrated by the then military junta. Olojede alongside Onukaba Adinoyi Ojo (who I must say is one hell of a great biographer) wrote a biography on Giwa titled ' Born To Run' in 1987. It was just after this that he moved to America and rose to become Foreign Editor of Newsday. His wife had also risen to prominence on the pages of the Guardian in the early 80's. Their return was seen as a victory of some sorts in that it bucked the trend of having some of our greatest minds leave these shores never to return and make any meaningful impact. I know for a fact that a couple of their colleagues were pretty excited about their offering. At the time, I remember reading an interview with Olojede where he spoke of how their workers had Blackberries which would help them on the job as they'll be able to send articles in faster and take pictures if need be. All basic stuff outside Nigeria but not things particularly common with Nigerian media houses then!

They were also paid generously making them a haven for most graduates. An amazing feat when you consider that the average graduate dreams of working at one of the banks, telecommunications or oil companies.
Dele Olojede


As an online news portal, Next won my heart. When President Yar'Adua did his disappearing act, Next pursued the story harder than anyone and was the first paper to declare him brain-dead. They went one step further by publishing secret cables from Wiki Leaks detailing the thoughts relayed by American embassy officials in Nigeria to their State Department counterparts. The comments on the website were the stuff legend is made of. Frequent commenters like 'TruckPusher' and 'Mr Plc' gained instant notoriety for their sharp and biting comments. It also helped that my father kept a weekly column. My dream at the time was to have Next publish me. Like all good things, the Next bubble was to burst when it turned out their finances had been mismanaged. Workers weren't paid and an attempt to switch to the online only model was unsuccessful. In no time, the website went dormant and Next went through one of life's only certainties: Death.

Nduka Obaigbena is the ultimate Nigerian media mogul. 'The Duke' as he is fondly called started his press run in the late 80's with the weekly publication, Thisweek that rivalled the Dele Giwa and Ray Ekpu-led Newswatch in a manner reminiscent of the Time and Newsweek rivalry. After Thisweek went defunct, Nduka returned some years later with Thisday, which today is one of Nigeria's leading papers. A trailblazer, it led the Sunday newspapers to introduce a glossy, all-colour magazine pull out. Thisday Style was first and is probably still the best. Obaigbena has a reputation of being tardy with finances. As Kayode Ogundamisi of Sahara Reporters corroborates, "you may not be paid (by Thisday) for several months as has been the case for a lot of the journalists at present, being owed almost 8 months' salary."
Nduka Obaigbena admires Beyonce's goodies
That's not all on his rap sheet.

In 2011, he was sued by Paul Ibe, an ex Thisday editor over alleged failure to remit pensions and taxes to the relevant authorities and salary arrears.

Although, it is worth noting that this might be the action of a disgruntled ex-employee as Ibe was also insinuating that the termination of his employment was done illegally. This was followed by another suit from Jan Malan, a South African photographer for breach of contract and damages of $300,000 in unpaid fees. To complete the picture, there's also his unsuccessful attempt to crack the South African market with Thisday South Africa. Philip de Wet, a South African journalist who worked for Thisday at the time in analysing the failures of the paper said "Inherent financial problems were not easily addressed, however, and in the long run may well have seen ThisDay fold even had the flow of operational funding from Nigeria not dried up. At its peak - according to management - ThisDay was spending roughly R8-million per month, most of it on staff and printing. In a good month revenues were around R4-million………. Lack of money apparently left it unable to save money, however; it could not move to cheaper offices because it could not afford moving expenses and it could not cut down on staff because it could not afford retrenchment payments."
All these point to an industry plagued by huge financial issues. In saner societies, a failure to pay staff wages is the gravest of crimes. I'm mature enough to understand that business owners can be hamstrung by periods of hardship and difficulty where it is actually impossible for them to remunerate their employees but this should not stop them from seeking to explain to their workers the situation at hand and making efforts to ensure it is nipped in the bud as soon as possible. I mean, there surely can't be any employers who enjoy the embarrassment that comes from their refusal to pay salaries being front page news or a topic of discussion on Twitter.
The law courts should ordinarily serve as a mode through which redress could be sought. This was the route taken by six members of staff of Next including Sports Editor, Kayode Thomas who sued Olojede and the parent company, Timbuktu Media for non-payment of salaries and allowances; wrongful termination of appointment; and non-remittance of deducted pension benefits. The plaintiffs asked the court to order the management of Next to pay an aggregate sum of N4, 592,450.03 owed them in outstanding entitlements. They also sought a sum of N5 million each for general damages for "wrongful, unlawful, illegal and unconstitutional termination of their employment." An Editor and reporters coming together makes some sense. What happens to Adebola Rayo who in her first job coming out of school claims she is owed N253, 000 by Next? Can she afford to take on the stress of going through court proceedings that would cost her a significant portion of the money owed? Court proceedings tend to be drawn out so I can understand the refusal not to follow that avenue. How else can people get the money owed them? It's unfair to suggest she forget the money and register it mentally as a charity job when it is her right stemming from her moments of toil and hard work. Some people prefer to be quiet about these things preferring not to contribute more embarrassment to the erring parties, but isn't that allowing themselves to be taken advantage of?
The media are a sensitive and essential component of society. Their job is to act as watchdogs in ensuring that the rules and regulations that govern us are held to the highest standard. As Ikhide Ikheloa, a columnist during Next's reign ponders "Those who won't ask their pal, Dele Olojede to pay Nigerian writers pennies he owes them for slaving for him want debate on $67 billion! Hypocrites!"
His point is valid. If the media, the watchdogs of society who should help us police our thieving politicians are caught in this web, how can their audience take them with any atom of seriousness? How can they do their jobs sensibly when they don't have money? A viable option is to resort to the life of brown envelope journalists who accept money for stories. Can we blame them?

How can we hold them to account when their proprietors who preach the values of ethics and journalistic integrity aren't walking the talk and are guilty of putting them in the very situations. Empathy is a major ingredient in this delicious food called Life and employers need to show more of it to their employees. Odds are that whilst they might not necessarily enjoy it, they would respect you for it and you'll be able to go to bed at night without having your conscience eat at you. The question still remains, why is Obaigbena able to soldier on whilst Olojede has gone back into his cocoon?